I saw this necklace over at Refinery 29 and I almost died. Such a rockin necklace with 2 of my favorite things mixed into one: Zippers & Chain!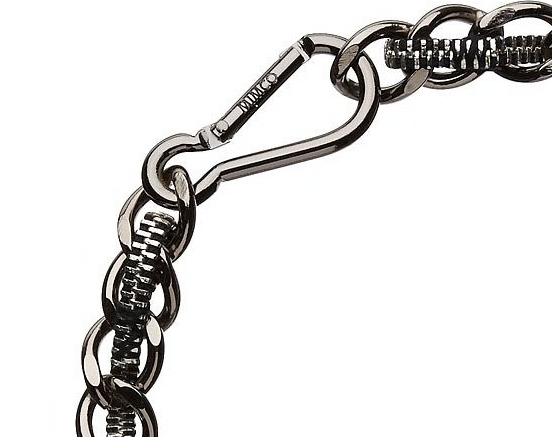 Head on over to
House of Fraser
to buy this beauty for
£69.00
then
£34.00
and now on sale for
£27.20
or read down for a super simple DIY!
Supplies
1. medium sized chunky chain
2. 2 pairs of pliers (preferably needle nose/jewelry pliers)
3. chunky silver zipper with black cloth under it (you could get a zipper with a neon or colorful undercloth for a fun look as well!) buy a fairly long one so you don't run out.
4. sharp and thread to match the undercloth
5. E6000 glue
6. something to mark with (safety pins work great)
7. a safety hook in simliar metal color to chain (or w/e you feel comfortable using as a closure for your necklace)
Directions
1. measure your neck with the chain and mark the chain with a safety pin. you want this as a choker but not so tight. remember to count for the safety hook. you can always add or remove chain links individually.
2. where you clipped the safety pin, use your pliers to bend the link apart at the joint.
3. get your zipper and make sure it is zipped up. loop one end through one of the links and attach the end under on the wrong size of the zipper with E6000 (just a little bit for extra hold), then hand sew neatly for even more stability.
4. weave the zipper in and out of the links, careful not to twist the zipper. when you get to the end of the links, snip off the extra leaving enough to do the same thing you did with the beginning step, loop under, glue, then hand sew.
5. attach each link through each side of the safety hook.
BOOM DONE! STATEMENT CHOKER NECKLACE
if you have any questions or need clarification, just leave a comment and I'll get back to you asap!
i hope to have a real picture tutorial very soon for all of you! i've had a super busy few weeks!