I love
nastygal
but damn they're expensive.
Browsing through their new in today and stumbled across this fringe heart tee.
SUCH an easy DIY!!!
You can even make this out of one tee // especially if you want the fringe heart to be
exactly
the same color. It would also look super cute if you did it in a contrasting or slightly different color. Depends on the look you're going for :)
1) Get an oversized tee shirt (make sure it's fairy long unless you want a little bit of a crop top) that's nice and soft like jersey fabric.
2) Seam rip the hem off of the bottom of the tee.
3) lay the shirt flat and cut the bottom 2" of the shirt off (or however long you want the fringe to be).
4) cut that piece of tee once so it's one long strip.
5) lay the shirt flat out again and kinda lay the strip out in a heart shape to see how big you can make your heart.
6) draw out your heart shape slightly smaller than what you came up with (it's better to have a little extra fabric than not enough cuz you can always take away fabric, can't add it!)
7) Take the long strip of fabric and cut the fringe at about .25-.5 inches apart depending on how thick you want the fringe to look.
8) pin your strip of fringe down on the shirt over the chalk.
9) Sew away! make sure to not get any of the fringe in there!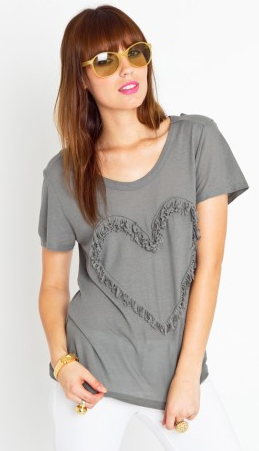 You can find this Fringe Tee
here at NastyGal.com
for
$58.00
or you could DIY for around $5 (yay cheap F21 tees haha)