Okay well it's not really duct tape, unless you'd really like to go that route for a super quick look the cheapest way when you have zero time to get ready. Otherwise, here is my suggestion.
Take an plain old black jersey knit (or any other fabric should do as long as it's like a body con skirt, nothing with ruffles or anything, that would get complicated and the duct tape illusion would just make the ruffled skirt too busy.
Anyways, get yourself some metallic silver spray paint from Wal-Mart or something. Wal-Mart is usually cheapest.
Mark off the entire skirt except the parts you want silver with duct tape or thick painters tape. If you'd like to save on tape you can just mark off the stripes/design in painters tape, then tape down plastic or brown paper around the other spots you don't want paint on.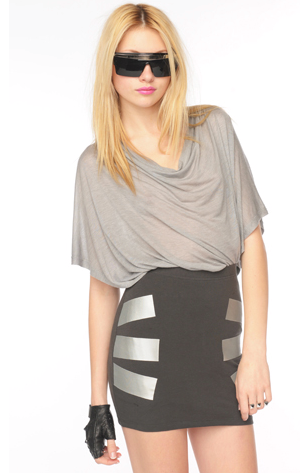 Courtesy of:
shopnastygal