Tee
Got a white tee lying around that's practically begging for you to DIY it? Good. Use it. A tee that's a little loose will prolly work best for this. This would also look super cute on a strapless sweetheart body-con dress! aka my personal favorite dress style! Anyways, this shirt doesn't actually have real zippers when you look close, it's just screen printed that way. I think it'd look WAY better with real zippers, don't you?
First you need lots of zippers in a set color of different lengths. I personally like the black because lets face it, you're already going to have zippers all over you, do you really need to wear zippers in neon green and pink? Prolly not. To be safe, try to find super long zippers for the most part because you can take away length, but you can't add it.
Lay your shirt down face up then lay out your zippers on top of it to see what type of design you like. Unzip part of them or all of them, twist and turn them. BE CREATIVE! It's your unique shirt, showcase that.
Once you have your set design, pin it down. Remember, if you're going to overlap and don't want a mess or a tangle in your sewing machine (unless you're an amazing seamstress and have a nicer sewing machine that has no problem going through lots of random zippers), pin down your first layer, sew it down (using black thread, or maybe white thread? Or maybe just MAYBE a colored thread for contrast? You decide.), then pin your next layer, then sew. I'd personally do it this way just so I know everything is flat and the way I'd like it.
I'd even do a sweet design in the back that continues in the front. The only reason why when you find stuff like this in stores only on the front of the shirt is because it's cheaper to print only one side of a shirt and most people don't care and would rather pay the lower price instead of having the fully printed shirt. It's not a crime, we've all done it. Money is tight now days. I get that. That's why we DIY :D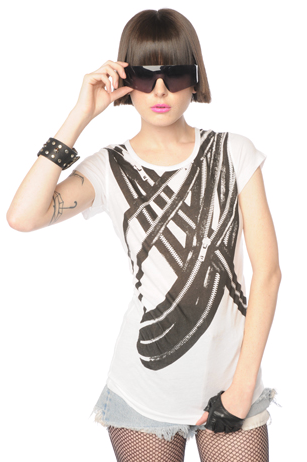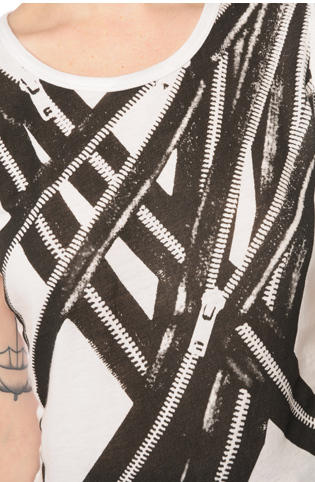 Courtesy of:
ShopNastyGal
--------------------------------------------------
Skirt
Got too many plain black or white skirts in your closet? Spice them up in the same way as I explained for the shirt above! Here's some inspiration!
Use white zippers if you have a black skirt!
Courtesy of:
ShopNastyGal